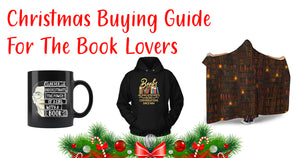 Christmas Buying Guide For The Book Lovers
 
With the cold weather coming in and the need to stay at home. Duvet days are essential! So why not match your duvet to your favourite books or hobbies. Ranging from just $44.95 you can relax and read a book while curled up in one of our intricate and bookish designs. Our quilts are designed for all ages and create the perfect gift for anyone who loves their bed, and books too! Designs include all of your favourite books such as Harry Potter, Alice and Wonderland and Lord of the rings. However, if you can't decide which quilt is simply your favourite we also offer a range of designs that just contain books and bookshelves to give your bed an artsy feel. Not to
mention we also offer Christmas themed quilts too, perfect for the holidays.

Our hooded blankets are an essential gift for anyone who is bookish and wants to keep warm and cozy this winter. Similar to our quilts, our hooded blankets come in a large variety of vibrant designs which feature a premium suede polyester print, lined with fluffy, polyester wool-like fabric and are embroidered with handmade stitches
which maximise durability so our blankets can be used winter after winter.
Furthermore, they come in two sizes, for children and adults so are a suitable gift for all ages this Christmas.

Everyone loves curling up with a hot drink around christmas time, so why not do it in style? Our high quality and durable mugs are microwave and dishwasher friendly
making them the perfect dish to pour your mulled wine or hot chocolate, or even butter beer into time and time again. They come in a range of designs and illustrate witty quotes that we're sure you bookish souls will be able to relate to.
  
Hoodies are essential for winter and you can never have too many of them. Our bookish and christmas themed hoodies are perfect for lounging around the house and wearing outdoors in chilly weather. For a small price you can choose one of our

designs which will be printed on demand just for you. Every hoodie is unisex and range from sizes Small to 5XL, so are perfect for any age, gender and size.

Do your Christmas shopping in style! Our reusable, christmas and bookish themed tote bags are a perfect gift for yourself or someone else who is looking to be sustainable and plastic free this winter. Our tote bags are hand sewn and durable,
making it the perfect bag to lug around your heavy presents and shopping. Each bag is finished with a sturdy 1" strap so no matter how heavy your luggage is, we can guarantee comfortability. Our bags are available for limited time only so grab this essential item now!

Our leggings prove that you can look stylish AND be comfortable. Each pair of
leggings is made of a polyester and spandex blend, making them fitting and flattering as well as providing comfort and breathability, meaning they can also be worn during exercise if you wish. When ordering you are provided with a sizing chart to ensure that your leggings are perfect for you and also given a variety of designs to choose from, you'll be stuck for choice!

Our bookish dresses allow you to express your true colours at any christmas event. Each dress is versatile enough to dress up or down, making them suitable for any occasion. Our range of detailed and colourful designs are enough to catch anyone's eyes this holiday. oh , and unlike any other dress you own, these dresses have pockets!

Similar to our hoodies, our sweatshirts come in a range of designs and colours and are a perfect gift to anyone seeking warmth and style this christmas. A sizing guide is available when buying your item so no one ends up disappointed.

Aren't sure what to buy your loved ones this christmas? Well we hope this blog gave you some ideas. There are many more items available on the For Reading Addicts shop so if you know someone bookish you will be spoiled for choice by our huge range of gift ideas. Stay safe and Merry Christmas ya filthy muggles!
---